Kurtwood Smith (born July 3rd, 1943) is a veteran film actor. He portrays Red Forman on FOX comedy That '70s Show and recently portrayed Vernon Masters on Marvel's Agent Carter.[1]
Bio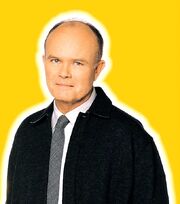 "Kurtwood" is his real first name. According to an interview with Smith on Caroline Rhea's syndicated television show (4/8/), his mother was a fan of a country singer named Kurt (or Curt) in the early '40s. However, she thought "Kurt Smith" was too short a name, so she added "wood" -- "she just tacked it on to the end," said Smith. He noted that he's likely the only Kurtwood. He attended Santa Clara University in California, and went on to earn an acting fellowship from Stanford.
Kurtwood was actually born in Wisconsin. He has been married to Cecilia Souza (1964-1974) and has two daughters with her, one of which is Laurel Garner, who also happened to appear on the show. Currently he is married to Joan Pirkle (1988-present).
Trivia
Smith frequently plays characters who have personalities akin to Red's; that is, they are well-meaning but stubbornly misguided.
Works
Selected filmography
| Year | Title | Role | Notes |
| --- | --- | --- | --- |
| 1999 | Girl Interrupted | Dr. Crumble | |
| 1998 | Deep Impact | Otis Hefter | |
| 1996 | A Time to Kill | Stump Sisson | |
| 1996 | Broken Arrow | Secretary of Defense Baird | |
| 1996 | Citizen Ruth | Norm Stoney | |
| 1995 | Last of the Dogmen | Sheriff Deegan | |
| 1995 | To Die For | Earl Stone | |
| 1991 | Star Trek VI: The Undiscovered Country | Federation President | |
| 1991 | Oscar | Lieutenant Toomey | |
| 1989 | Heart Of Dixie | Professor Flournoy | |
| 1989 | Dead Poets Society | Mr. Perry | |
| 1989 | True Believer | Robert Reynard | |
| 1988 | Rambo III | Griggs | |
| 1987 | RoboCop | Clarence J. Boddicker | Villain |
| 1984 | Flashpoint | Carson | |
| | | | |
TV
The Grim Adventures of Billy and Mandy
Squirrel Boy
Robot Chicken
Malcolm in the Middle
3rd Rock From the Sun
Star Trek: Voyager
The A-Team
The Nightmare Years
Fillmore!
Gary and Mike
The Zeta Project
Justice League
24
Notes and references